Will your child thrive better in preschool or daycare? We at Roots & Wings understand the importance of this foundational choice. With our knowledge and guidance, choosing a path forwards is easier than you think. Read on for a general program comparison followed by an explanation of how we approach preschool and daycare at Roots & Wings.
Preschool or Daycare
While daycare and preschool share some general similarities, they have distinct differences in terms of their purpose, focus, curriculum, and structure.
Daycare, sometimes referred to as childcare, primarily serves as a safe and supervised environment for the care of infants, toddlers, and young children while their parents or guardians are at work or otherwise occupied. The primary goal of daycare is to provide care and maintain the well-being of children. This includes activities such as feeding, changing diapers, nap times, and playtime. Daycares often operate for longer hours and can admit infants and toddlers as well as preschool-aged children.
On the other hand, preschool is an early education program designed to enhance the cognitive, social, and emotional development of children during this important period of growth, from 3 to 5 years old. The Montessori preschool (Primary) classroom is specifically designed to assist children to develop in each of these areas. Preschool teachers typically require a higher level of education and specialized training, which can vary depending on the school. In our Roots & Wings preschool we exclusively employ accredited Montessori teachers.
Roots & Wings Montessori School
Here at Roots & Wings, each of our programs, infants, toddlers, daycare and preschool, each have varying degrees of "Montessori".
The general principles of Montessori:
– empowering children for independence
– self-care
– respect for all
– grace and courtesy
– individualization free from labels
Sullivan Daycare
Our Roots & Wings Sullivan Daycare admits children from four months to five years of age, and runs daily from 7 AM to 6 PM. Our infant and toddler environments include Montessori materials and some Montessori trained guides. Our three to five year-old daycare program is a typical play-based program, including centers for free play, arts and crafts, circle time with music, and daily outside play.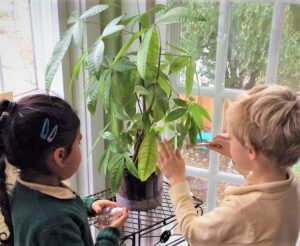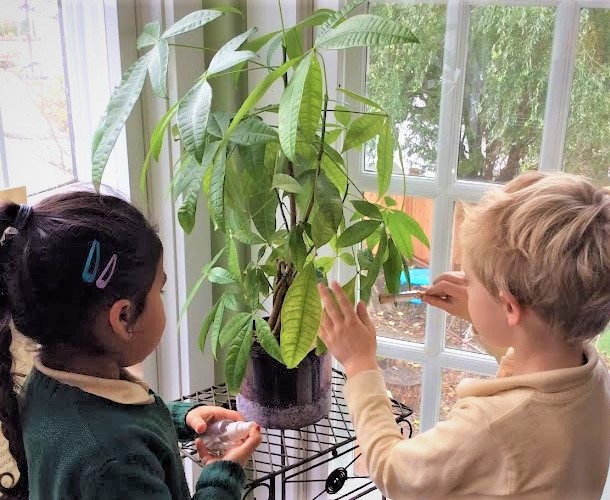 Montessori Preschool – Heritage House
In our Roots & Wings Heritage House is our Montessori Primary/Extended Day Program (preschool/Kindergarten), academic rigor is more of a focus, and takes place in our 100 year-old Heritage House. It includes didactic learning using specialized materials and fully trained Montessori educators.  Lessons follow observation and take advantage of individual levels of development, including writing and reading (ideally between age 4 and 5), basic understanding of decimal math, geometric relationships, world cultures, classical music/art, and especially stewardship of the natural world, with daily play in our adventure playground.
In this three-year program, each student's progress is carefully recorded and reported to parents, and typically by the end of the three years, the child is reading, writing in cursive, understands the four math operations, has an impressive knowledge of world geography and cultures, can identify various classical composers and artists, has an understanding and respect for all living things, and is a confident, competent leader.
Our Montessori Primary/Preschool program enrolls children aged three to five years and begins with half-days (AM or PM) until their Kindergarten year when children begin "Extended Day" Kindergarten, which runs full days from 8:30 AM to 3:00 PM. Of course, we offer full day care before and after school as families require.
In summary, each of our programs benefit from the effective implementation of Montessori principles. Our Sullivan Daycare (4 months to 5 years old) primarily provides care and supervision for children, focusing on their safety and well-being, in a Montessori-influenced environment. Our Montessori Preschool (3 to 5 year-olds) is more focused on academic rigor, featuring specialized materials and accredited Montessori teachers.
Do you have questions and want to learn more? Please contact us today to book a tour and meet our Roots & Wings Team!